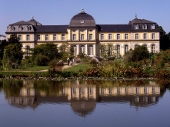 Poppelsdorf Castle
Under Elector Josef Clemens, a fresh wind blew in Poppelsdorf. Thus, on August 21, 1715, the foundation stone was laid on the remains of Poppelsdorf Castle for a new Baroque palace, initially called Clemenshof Palace. According to plans by the French architect Robert de Cotte, it was to consist of four wings, each with a square corner pavilion and a main room, also square, in the center of each long side. In the center was to be a circular courtyard surrounded by an arcaded gallery with Italian style elements.
Joseph Clemens himself, however, could not live in his favorite palace, as he died before its completion (1723). When his successor Clemens August, who initially did not think much of the palace and even wanted to demolish it in 1725, had been convinced of the usefulness and beauty of the building, he decided to rebuild it and even expand it, this time, however, according to plans by Balthasar Neumann. With the completion of the palace (1749), Poppelsdorf's "golden age" began, the Poppelsdorf fair was celebrated for the first time on the occasion of the consecration of the palace chapel, and a collection of paintings by 136 old masters, including 14 Rembrandts, was added to the palace's magnificent interior.
After Clemens August's death (1761), the pomp and splendor gradually declined, and the French invasion in 1794, who even temporarily established a military hospital in Clemensruh Palace, as it was now called, did their part. It was not until 1818 that it again served a more worthy purpose, namely when Prussia transferred it to the newly founded university as an institute campus. However, a large part of the interior decoration was lost during the construction of lecture halls and study rooms, as well as the baroque garden, which had to make way for the botanical garden.
After the building was almost half destroyed in the 2nd World War, it was not restored until 1959 and today houses an important mineralogical – petrological collection, which is very worth looking at.
Opening hours:
Wed 3.00 – 5.00 pm, Sun 10.00 – 12.00 am, free entry
Directions: See botanical garden
(Foto: Thomas Monnens)